Native Plants & and Water
---
What Do Native Plants Have to Do with Our Water?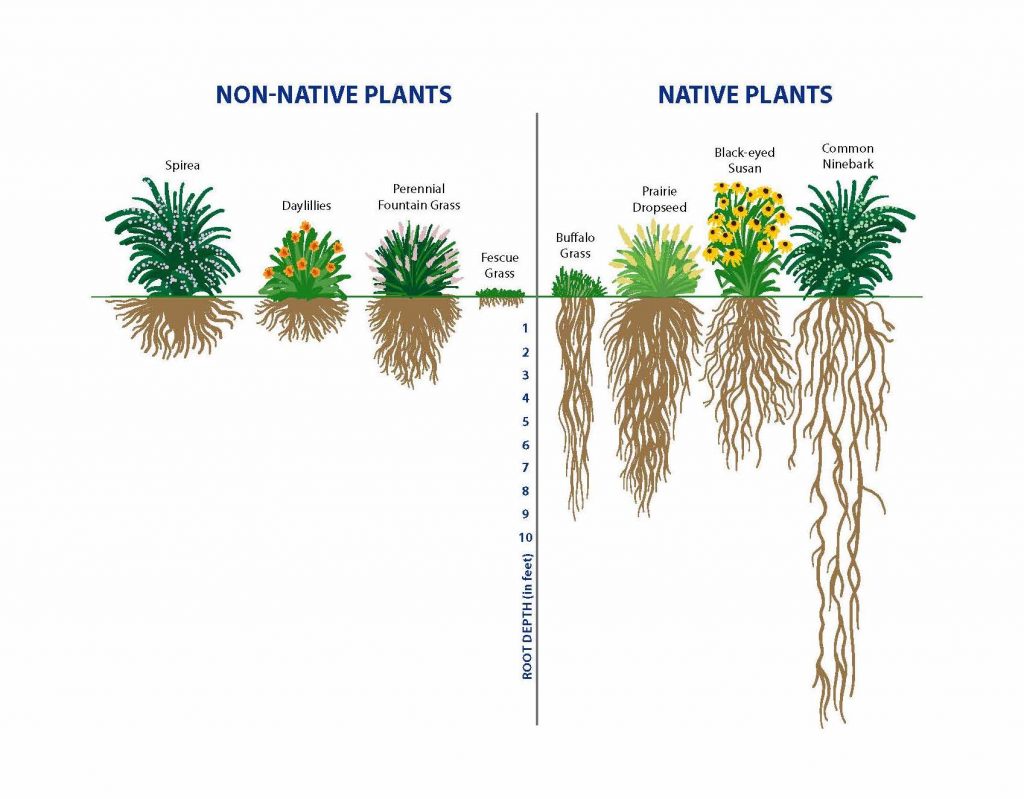 Native plants consist of flowering plants, vines, grasses, and sedges that adapt to the climate of a given area (there are also many native trees and shrubs). Over many millennia, these plants became experts at surviving, among other things, the periods of dry weather—even drought—that have long been a feature of our local weather. One adaptation that made this possible is the long and robust root systems common to these plants. 
Big root systems benefit our water in three primary ways. 
First, native plants don't need to be watered like many exotic or ornamental plants. While some might flag a bit during the driest conditions, they usually won't perish. Because they don't need to be watered, we use less of our water supply on our landscaping, saving money and reducing stress on water supplies. 
Second, native plant roots facilitate the infiltration of stormwater. In other words, when it rains, native plants help the water soak into the ground. Used wisely, this strategy can reduce ponding and flooding, and it prevents pollution from running to our waterways. 
And this points us to the third benefit of native plant roots: they are tremendous filters. When it rains, the water collects and washes over the landscape, collecting the fertilizers, bacteria in dog poo, pesticides, oils, sediment, and other pollutants that come from our yards. It is estimated that 70% of the sediment in the United States is caused by human use of the land. Well-placed native plants—along a sidewalk, as a rain garden, along a shoreline—can slow that runoff and soak it into the ground where their roots filter out the pollutants. From there, the water continues on its way through the water cycle, either into an aquifer or toward a stream or river.  
There is one more important function that native plants serve: they are an integral part of an ecosystem that includes the food web on which we are all dependent. They provide everything from nesting material to nectar for a wide range of wildlife. That includes pollinators: the bees, butterflies, birds, and other critters that together help produce about a third of the crops humans eat every day. They also aid in the reproduction of nearly all wild flowering plants.  Learn more about pollinators here. 
Join the Rain Garden Water Quality Movement!
Rain gardens and other types of green stormwater infrastructure (GSI) are becoming an increasingly common way to improve water quality in the Greater Toledo Lake Erie area. GSI is an approach to managing stormwater runoff that emphasizes infiltration, evapotranspiration, or rain water reuse to mimic natural systems. Since this is a more specialized type of landscaping, proper installation and maintenance require some additional planning. Keep reading for plans, tips, and resources to help make your rain garden a success!
Select the Best Plants For Your Site
You can customize your rain garden to not only improve water quality but also fit it to your own landscape preferences or needs. Do you have a lot of shade in your yard? Do you want to make sure plants don't get too tall and block your views? Or would you like a bird and butterfly garden? Visit the Toledo Lucas County (TLC) Rain Garden Initiative Native Plants page for species suggestions and information. The Wild Ones Oak Openings Region Chapter is also a great resource for native plant information.
Installation and Maintenance Resources
Native plants and landscapers familiar with rain gardens can sometimes be hard to find, but that should not discourage you from installing a rain garden.  There are organizations that can provide technical assistance to you, including your county Soil and Water Conservation District and the TLC Rain Garden Initiative.  Or, if you're ready to pursue the project yourself, see below for lists of suppliers and installers to make your garden a reality.
Helpful Resources
Wondering where you can find native plants, soil amendments, or drainage stone for your rain garden? Look for an expanding supply of native plants and other supplies at A & J Landscape, and check out additional resources here: Native Plant Resources
The planning and construction of a small rain garden can usually be a do-it-yourself project; however in some instances, it may be necessary or desirable to hire a professional. You want to make sure the professional you hire is able to design your project to your satisfaction and also fulfill city requirements (if there are any).  When you are looking for a professional, use recommendations from neighbors, online resources and other databases, or consult your local Soil and Water Conservation District. The following are all good questions to ask potential candidates to ensure you will be satisfied with their work:
What experience do you have with rain gardens?
Are you willing to work with homeowners?
Are you knowledgeable about local requirements and permits?
Can you help me find an appropriate location and design for my rain garden?
Can you help with drainage, infiltration and soil requirements for placing a rain garden on my property
Visit one of our partners, A & J Landscape, for rain garden design and installation expertise!
Additional Considerations
When installing a rain garden, you will need to call before work begins to make sure you don't dig into any underground utilities! In Ohio, simply call the Ohio Utilities Protection Service by dialing 811 (or 800-362-2764) at least two days before you plan to start to have the utility companies come out and mark your utilities for free. Michigan residents should contact MISS DIG by dialing 811 (or 800-482-7171) at least three days before you being your project.
How do Rain Gardens Work?
See this helpful information on the function and importance of rain gardens.
Ready to Install Your Own Rain Garden?
To build your own rain garden, just follow these simple steps!